Live Aqua Beach Resort Cancun
Boulevard Kukulcan Km. 12.5, Near Cancun Interactive Aquarium, Cancun, 77500, Mexico
Live Aqua Beach Resort Cancun, Cancun


















































































































































































Live Aqua Beach Resort Cancun
Multiple pools and restaurants spa services and nearby shopping add extra-special appeal to the non-smoking Live Aqua Beach Resort Cancun - All Inclusive - Adults Only. The nine-story all-inclusive Live Aqua Beach Resort welcomes adults with 371 rooms featuring flat-panel LCD TVs iHome systems high-speed internet coffeemakers included minibar goodies and homemade soaps. Multiple restaurants and bars featuring unlimited meals and alcohol are provided. Indulge in concierge services by 7 year-round outdoor pools including sea views and hot tubs plus lap and infinity pools. After a tennis match a workout in the gym or an intense yoga session pamper yourself in the Feel Harmony Spa providing candle massages honey scrubs and aloe wraps. The Live Aqua Beach Resort holds a sweet spot on Cancun's white sandy coast. Guests are within a quick five-minute walk of La Isla shopping. Pass by the Interactive Aquarium Cancun or MUSA to view the underwater sculptures both also within a five-minute stroll. It's a 12-mile drive to Cancun International Airport.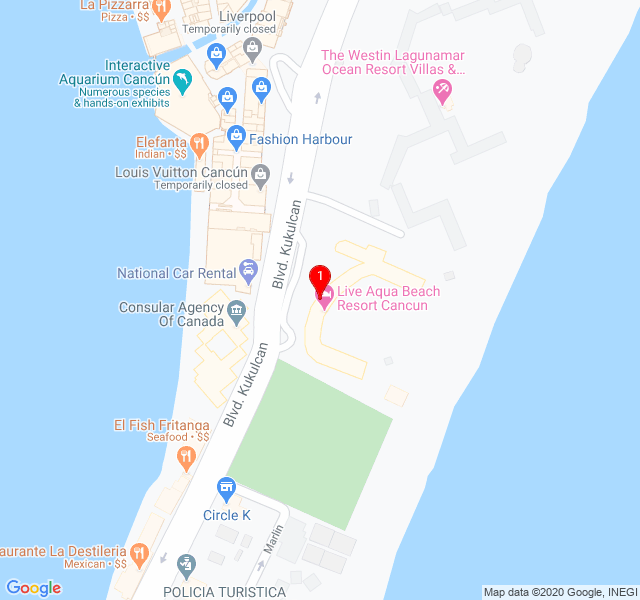 Price & Availability
We are sorry to inform you that there are no rooms available for the selected dates at this hotel. This may be due to high demand, limited availability, or special events but don't worry, we have some other hotels that you might like. You can also modify your search parameters and try other dates or hotels that suit your needs and preferences.
Similar Hotels you may also like
Popular properties similar to Live Aqua Beach Resort Cancun